The Aflac Duck; the Geico Gecko; Flo from Progressive. It's difficult not to know who these characters are. Not only are they all over TV, but they have their own Facebook pages. They are the "mascots" of three major U.S. insurance companies, and, while consumers tend to ignore most ads, they tend to stop and watch these. Why? Because every ad is a story of the adventures and exploits of these three.
Now these three mascots represent a pretty boring industry – insurance. It's hard to get consumers excited about insurance, and marketing it has always been a challenge. Traditional marketing has always focused on coverage and price and other boring stuff. But marketers discovered that entertaining their target audiences with storytelling engaged them and persuaded them.
Storytelling is Not New
These three companies were not the first to entertain audiences with stories. Brands have recognized the power of this strategy for years and, once the Internet opened far greater ability to "reach" a huge audience, storytelling has exploded and taken on many forms. Whatever form it takes, however, there are four ways in which stories can engage and persuade.
1. A Company Can Portray Is Personality
Brands have personalities. Dollar Shave Club, a relatively young company that sells subscription razor deliveries, finds the humor factors in men and shaving. Its site is filled with entertainment, down to its blog, titled "Bathroom Minutes." The opening video on its homepage tells the story of the company and provides and explanation of the value in having a monthly supply of razors delivered to a customer's mailbox. It's hysterical.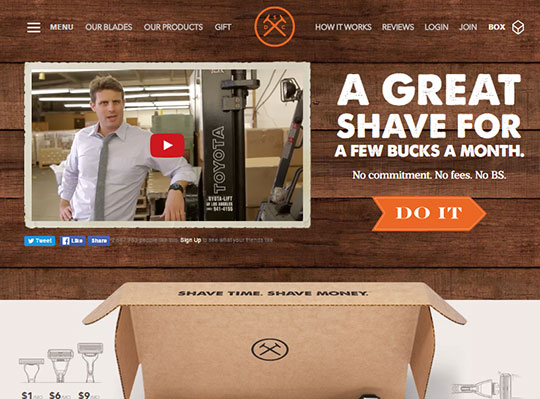 At the other end of the spectrum is Headbands of Hope, another young company that supports children's cancer research and donates a headband to a little girl with cancer for every headband that a customer purchases. The stories on it site and blog are poignant ones about kids battling this horrible disease – the brand personality is one of love, care, and hope.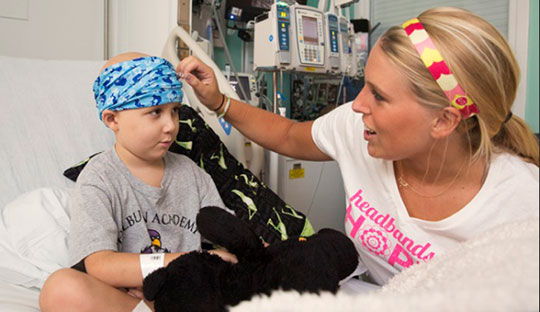 Letting your brand personality shine through stories is powerful, as these two companies show. Both have grown rapidly over the past three years of operation – and that growth is greatly a result of their brands' stories.
2. You Can Make Your Brand Stand Out as Unique
It's a competitive world, and the amount of bombardment from digital advertising has many on "overload." They don't like pop-ups; they don't like ads saturating their social media pages and their emails, and they especially don't like hard sells. And they especially don't trust brands that focus more on selling a product than developing a relationship. Here's where storytelling can set you apart from your competition. Use stories to put your brand front and center and demonstrate your care for your customers. Indirectly, you are persuading them to buy from you, and you are garnering lots of goodwill.
ModCloth is a great example of getting its brand to stand out through storytelling. It does not have long sagas – its stories revolve around its customers who submit photos of themselves wearing clothing they have purchased from the company. The picture and a few words of explanation comprise the entire story, and it works!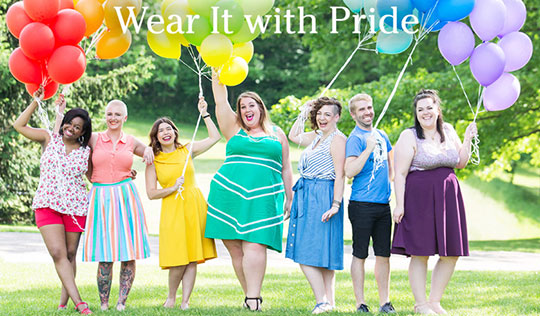 You don't want stories to be over-complicated, and sometimes just a visual and a short phrase will do perfectly.
3. Stories Can Generate Lots of Emotional Appeal
Telling stories that strike an emotional chord are powerful. If you do this, though, base them on real stories. Know which emotions you are going for with your stories – humor, inspiration, joy, shock, and even anger can sometimes work. Generally, though, audiences like stories that are at least somewhat uplifting, so stick with positive emotions if possible. Even though Headbands of Hope tells stories of kids with cancer, and that has a huge emotional response, it tries to inject hope with each one.
One word of caution here: Be genuine and be honest. Audiences can "smell" a fake a mile away. And when you are telling a story that is real, you'll tell it better, the ad your audience will engage more.
Recently, there was a YouTube sensation about a silly Chewbacca mask that a woman had purchased for herself for her birthday. She bought the mask at Kohl's Department store. The video was so funny that it immediately went viral. It was real and it was genuine, told by the woman in her own voice. She was not working for Kohl's in any way, but that story spread Kohl's brand indirectly to millions of viewers.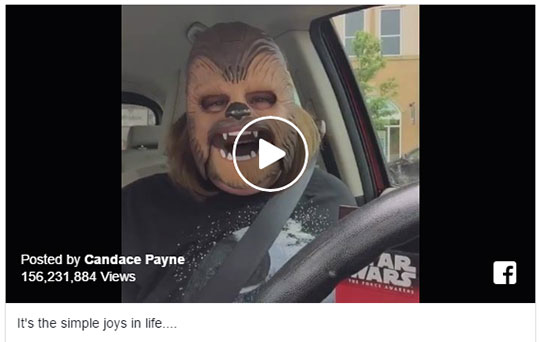 Notice the number of views.
4. Stories Can Have Ongoing Plots
You don't have to tell the whole story in one "sitting." When the Aflac Duck broke his wing, a number of commercials revolved around his process of healing – showing him in traction, then in physical therapy, etc. And since Aflac is a company that sells supplemental hospitalization insurance, the scenarios were perfect for brand spreading.
Even if you don't have a mascot with a broken wing, you can continue an episodic story over several weeks. Jack Daniels had a recent marketing strategy of asking its visitors and regular viewers to submit their funniest bar stories. It was a big hit, and people kept accessing the website for the regularly published stories.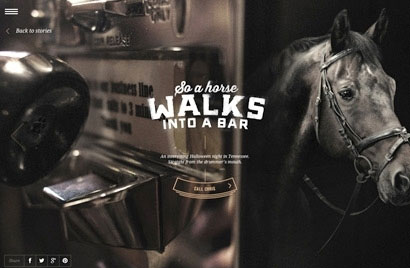 We are "Wired" for Stories
The average Internet user is subjected to over 100,000 words a day. Cutting through all of that can only be accomplished by engaging content. That content means that marketers have the writing skills to tell a good story and the understanding that there must be visuals to accompany it. The brain processes visuals about 60 times faster than words, as shown here by a Fast Company infographic: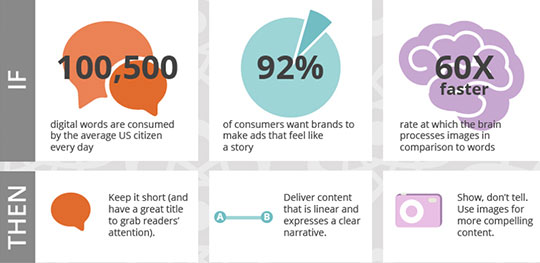 And speaking of or brains, the infographic below, also published by Fast Company, explains what happens to our brains when we are presented with stories.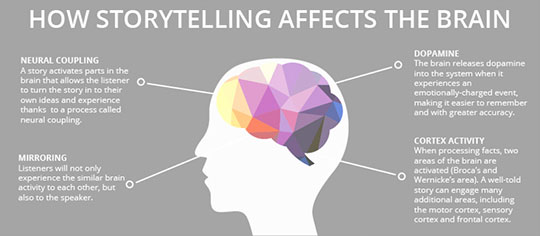 When four parts of the brain are activated, engagement is strong. This is, of course, why storytelling is such a powerful medium for marketing.
So, how can you use storytelling in your marketing efforts?  Perhaps these examples with giving you some good ideas – And maybe you are already using a lot of storytelling with some great results. We'd love to hear about it in the comments below.
This article is written by Norman Arvidsson. He is an independent author who writes with the purpose of sharing his experience with others through his articles. He considers personal growth as the main goal in his life. You can contact him through his social networks or visit his educational blog.