Anybody who saw digital marketing as an alternative tool is out of denial. Some understood its prevalence timely and adapted like an intelligent species and others realized after considerable losses of marketing equity. Whichever way, the digital marketing featured in your plan; it is today the most important and evolving thing on your branding agenda.
Advertisement
The Marketing Mutants
No marketing that is full-grown professionally in pushing sales can think of having an elusive attitude towards the newly developed digital marketing phenomena called Artificial Intelligence (AI) which is also evolving currently, and its growing pangs can be observed in some of the tools and computer programmers have been accounting the problem areas which eventually will be sorted, with competition getting more intelligent every day.
Some visionaries have already started relying on artificial intelligence to win bouts in the digital arena and rightly so, for in a world which we live in today, internet dependence is almost like a sixth sense without which, each of us is crippled, such as the use of this Artificial Intelligence (AI) growing phenomenally. Artificial Intelligence, although a computer program, now had the ability to think and learn. It developed as a field of study which tried to make computers "smart." As machines become increasingly smart and capable of accomplishing bigger better tasks just by filling or feeding information.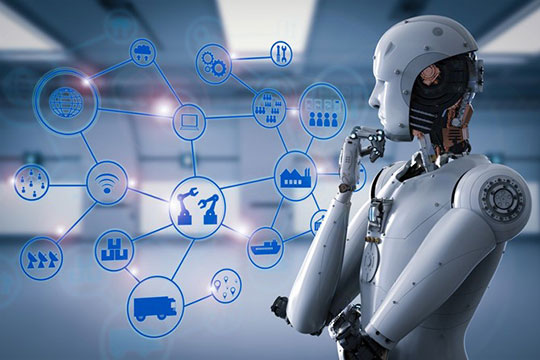 A balanced intelligent mental faculty of human beings, that was once so important, was removed from the definition. Even when we look at the significance that it has gained in Digital Marketing Strategy, we also need to keep in mind the risks and benefits of AI. We need to understand their types, their performance potential and ultimately what are the risks and benefits that are likely to take over the world with it.
However, what is seen first, needs to be mentioned first, and there is no denying that AI has taken the world of Digital Marketing by storm. And it has been very instrumental in promoting sales at double in the marketing industry. It has become a key player for promoting sales in the marketing industry, and that cannot be ignored. Artificial Intelligence has been trying to support Digital Marketing as the key to the world of success and advancement. Referring to it literally, Artificial Intelligence is a way of making robots and machine-like computers and laptops humanly interactive and intelligent.
AI-powered digital marketing tools are being adopted and used by large and small firms all over the world to improve their campaigns and decision-making plans. Such tools now thrive with a massive change in demand. Artificial Intelligence has been successful in enhancing data analysis, decision making, and automation. In order to gauge its growing relevance, you will find it interesting that demand for digital marketing help has evenly increased amongst students in various universities in Australia, New Zealand and Canada.
Recommended for you: How Network Security Can Help Avoid IoT Device Hacking?
Role of Artificial Intelligence in Digital Marketing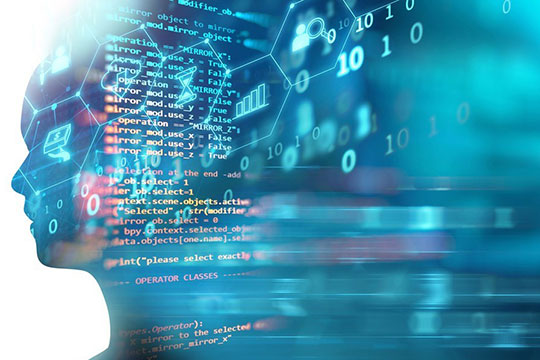 Advertisement
With the changing trends of Marketing, the upcoming of Digital Marketing was in itself a big trademark in the business world. Joining hands with Artificial Intelligence will lead to a brand new vision for marketers. AI is playing and will continue to play a massive role in the growth of Digital Marketing, but here are some pros and cons that Artificial Intelligence faces in its natal stage while helping Digital Marketing's growth. It faces challenges that will eventually be overcome, in order to make the best of both in kicking-up Digital Marketing Sales and the burgeoning use of AI in day-to-day life:
Real-Time Tracking:
Artificial Intelligence helps to track the data on-time 24*7 which helps humans to analyze the same, later. Also, the data can be checked anytime-anywhere keeping in mind the authenticity of the authorized data. However, when we look up the use of Artificial Intelligence in Real-Time Tracking, there are certain aspects that also need to be observed. Companies processing data in Real-Time for Artificial Intelligence and machine learning use cases are trying their utmost best to adopt the procedures in high gear, but it remains to be seen how the developers here are going to overcome their dearth of developer expertise.
Despite that, however, according to a survey, to be precise, companies processing data in Real-Time Tracking and machine learning use came up from 6% in 2017 to 33% in 2019 according to a survey, and it is likely to grow more rapidly in the ensuing years.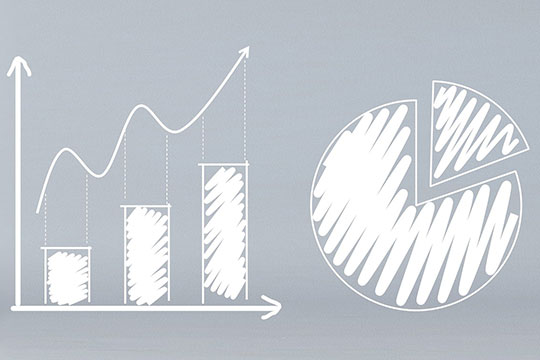 Accuracy Improved:
Artificial Intelligence plays an important role in the accuracy of the data tracked. The data collected is usually consistent that is totally relevant to the respective industry. In the medical industry, the accuracy of Artificial Intelligence has taken the medical fraternity by storm especially in predicting Cancer mutants whether they persist in the body or not. The accuracy in predicting so close came about by adding more data by way of information in the system. The second thing that followed was to treat the missing values by a featured engineering process for more accuracy using a selection process based on multiple algorithm tuning and finally ensembling all the data for complete accuracy predictions.
However, computer scientists still feel that the accuracy of Artificial Intelligence phenomena is hyped. They are concerned that the most important results in Artificial Intelligence research are hard to replicate. One challenge being Artificial Intelligence papers are missing on several key data required to run the algorithms efficiently, without which, it is nearly impossible to determine whether a particular algorithm is functioning as efficiently as described. However, there is no denying that the AI accuracy has taken the digital marketing world by storm even with whatever improved accuracy level that they have retained in the current scenario.
Advertisement
Security-Enhanced:
The system and data security are improved and enhanced better with the help of Artificial Intelligence. As cyberattacks grow in complexity and volume, AI helps under-resourced security processes analysts to stay way ahead of threats. The data collected is secured and thus can't be hacked by other resources. Unfortunately, as we progress further with the scientific measures that we take, it has been noted, it is far easier to produce data than it is to protect it.
A step in the direction for security enhancement is a breakthrough not only in digital marketing but also in all other fields like Cyberspace. Artificial Intelligence plays a crucial role to offload work from mankind, thereby creating a lacuna in the long run, but the depth and detail that cannot be tackled by a human mind with the speed that is actually required, Artificial Intelligence is likely to take over. The Artificial Intelligence application can quickly and automatically adapt to changes and point out threats and problems as they arise immediately.
Content Marketing:
The content is formed as per the words used mostly by users to search. The SEO words help content to hold an upper position on Google search leading to automatic branding and advertisement of the brand.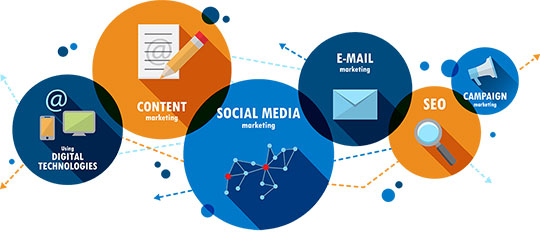 Trend and Market Analysis:
The AI is also used to track and analyze the latest trends which further help them to form the strategies and digital marketing campaigns. The market is analyzed precisely and according to the trends being followed to justify the branding of the industry.
Advertisement
AI Applications Used in Digital Marketing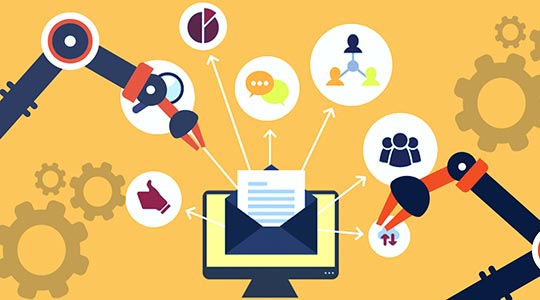 AI can be used in Digital Marketing to improve some of its applications and provide advance results.
1. Digital Advertising

Digital Advertising is the most important area of Digital Marketing which has successfully adopted Artificial Intelligence (AI). Facebook and Google Ad are considered to be the best examples of Digital Advertisement.
2. Searches

According to Google, 70% of searches are made and performed while pressing the button or through voice queries. AI makes this feature more user-friendly and convenient. Many other examples are Alexa, Siri and Google Home.
Advertisement
3. Web Design

Not only Digital Advertising & Voice Search, web designing too plays an important role in Digital Marketing and thus can be enhanced with AI. Instead of a web designer, we now have an application called "GRID" which automatically designs websites using AI Technology.
Future of AI in Digital Marketing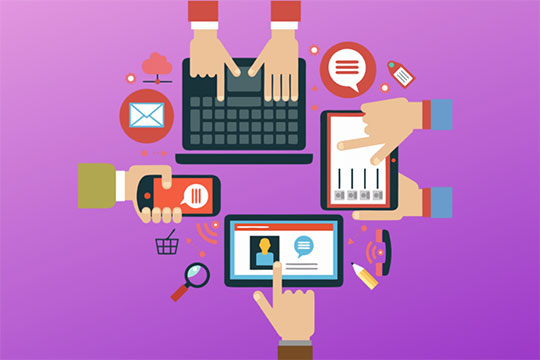 Artificial Intelligence is an incredibly useful technology that will initially be beneficial for the industry and customers. With AI Technology in hands, wonders can be done for a brand, making human life easy. It will help to improvise marketing strategies and data collection improving the experiences of the customers and also enhance the marketing.
AI provides a number of benefits that can help improve the face of digital marketing in the future:
Advanced Results will be provided.
Customer support will be analyzed in real-time.
Will save money and time.
Tracking of real-time customer behavior will be initiated.
Customer management will be automated.
Data security will increases.
Data accuracy will increases.
Sale opportunity will be increased.
Revenue loss will be prevented.
You may also like: 16 Effective Tips on How to Market Your Business Online.
Final Words

Artificial Intelligence is a trending area of study. And that is true in almost all spheres, business, and life. The strategies formed while merging Digital Marketing and Artificial Intelligence (AI) can deliver improved customer engagement and above all, help you save both time and money whilst contributing to the holistic idea of smart work.
Advertisement
And what is to come of Artificial Intelligence as we start using it in our daily life, is not something to worry too much about, as this is just the evolution stage of the bigger revolution that man is likely to see ahead.
This article is written by Sophia Smith. Sophia is a skilled Content Writer with four years of experience in multiple domains such as IT, management, digital marketing, and science. Presently, She is working at My Assignment Services and supervises a team of 16 writers and senior editors who provide assignment help to students.
Disclosure: Some of our articles may contain affiliate links; this means each time you make a purchase, we get a small commission. However, the input we produce is reliable; we always handpick and review all information before publishing it on our website. We can ensure you will always get genuine as well as valuable knowledge and resources.