A featured oriented camera can help you in catching and preserving memories. There is a huge variety of the same available in the market or through online. But choosing the best one from them can be a tedious task at times. But if your approach is perfect and you know your priorities then pick up the one that has the major counts on the list. The EKEN company has launched recently a camera known as V8s Native 4K EIS with next generation features that are exclusive to the people who love water sports and are interested in taking the rarest pictures of their life.
Let's have a look at the specifications of the V8s Native 4K EIS Action Camera:
1) Electronic Image Stabilization (EIS):
It is a technique used by EKEN for image enhancement that can minimize the blurring and also fills gaps between videos if your camera shakes while taking any videos. The EIS with 3-axis accelerometer and 3-axis accelerometer detects the motion and position changes. While making the video if your camera moves, tilts, experience any impact or shakes, then it's sensors use the algorithm build within to compensate and produce stable videos.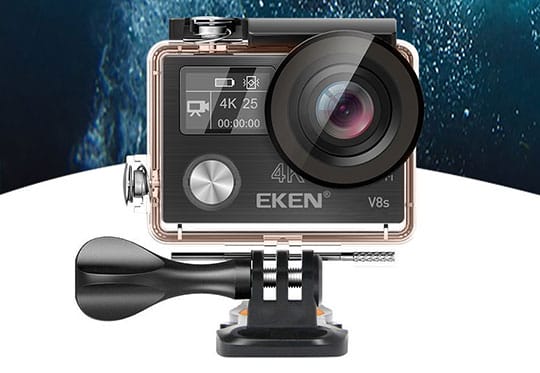 2) Display:
The camera is equipped with a high-definition LCD display of 2 inches. It offers 4K/2.7K/1080P@60fps for recording videos which are eligible to capture crystal clear sounds with pictures to be handled. The camera can be taken to the various sites for recording professional videos, and its image resolution of 14MP and 170-degree enables the user to capture accurate motions with sharp sounds.
3) Waterproof and Easy to Wear:
The EKEN V8s Native 4K EIS Action Camera can be worn while swimming or diving underwater. The waterproof feature enables the camera to capture videos of underwater life up to the depth of 30M. The camera is easy to carry in a waterproof case, and its silky touch buttons can be operated easily underwater as well. You can carry the ultra slim camera on various adventure sports too like biking, skating, climbing, etc.
Recommended reading: The GPD Pocket Mini Laptop (7 inches, Windows 10) – Feature Review.
4) Dual Camera:
The rear view of the camera has a 2inch LCD mounted to view the various videos that you are recording. Another small screen that is attached to the front of the camera displays video or Photo modes and the battery condition as well. The dual screen that is attached to EKEN one of the best buy as you will be at ease working through.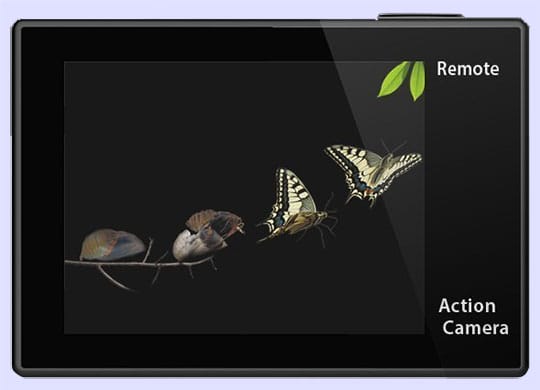 5) Time-lapse Feature:
The time-lapse feature with EKEN is one of the best in driving the camera. This fascinating feature can capture slow movement with time. Like you can record blooming of flowers, a sun rising and setting, clouds and shadows moving around. To start with the time-lapse feature, you need to enable the respective mode. Just have a check on the LCD screen for the mode, and if you didn't find, then you can press the power button. The time-lapse feature can take a series of pictures for 60, 30, 20, 10, 5, 3-second intervals.
6) Battery:
The camera comes with 2 Lithium rechargeable batteries for you to experience the adventure throughout the day. Once fully charged, battery operates all day around without any issues.
You may also like: Alfawise S60 Window Cleaning Robot Cleaner – Feature Review.
7) Wi-Fi Feature: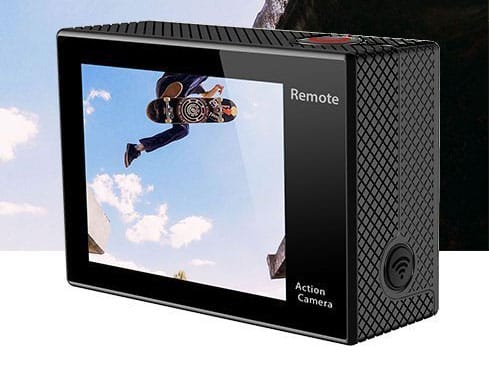 The Wi-Fi feature of the camera enables an easy transfer of the pictures from one device to another. And you can get connected wherever you will find the signals and can update the software and transfer the files to save them and share with your friends and family.
8) Accessories:
The wrist can have a check on your camera from an 8m distance and can choose to shift from photos to videos instantly. Doesn't it sound really interesting that with a touch you can start or stop a video or take a picture instantly? With these waterproof accessories, it makes V8s Native 4K EIS Action camera a must buy for your next vacations.
Conclusion: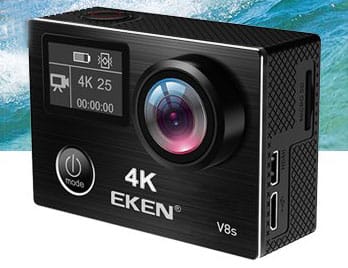 These many features built-in under a single camera and accessories are difficult to find. If you are not professional photographers, with this camera you can still capture the moments with excellent graphics that too without any blurred images. Try out the unique and excellent features of this camera, and if you face any issue, you can go through the guide attached to the kit.
Buy EKEN V8s from Amazon Check other Action Cameras by EKEN
Limited time offer: If you wish to buy this product from Amazon, using the Coupon Code "
GIB7XB6T
" you can avail it at a promotion price of "
$113.99
". The coupon code is valid from
21st August 2017 3:00 AM (PDT, US TIME)
and it will expire on
21st August 2017 23:59 PM (PDT, US TIME)
.
EKEN V8s - Review Breakdown
These many features built-in under a single camera and accessories are difficult to find. If you are not professional photographers, with this camera you can still capture the moments with excellent graphics that too without any blurred images.
Disclosure: Some of our articles may contain affiliate links; this means each time you make a purchase, we get a small commission. However, the input we produce is reliable; we always handpick and review all information before publishing it on our website. We can ensure you will always get genuine as well as valuable knowledge and resources.
Recommended Content for you: