All over the world, needy users are in pursuit of best large screen tablets that can easy to carry and meet all their needs too.
We have identified six such large screen tablets that are widely popular, come with some unique but many common features and carry different price tags that would match with the different necessities of their buyers.
Out list of those 6 large screen Tablets is:

Let us check how the above have become the best large screen tablets.
Apple iPad 4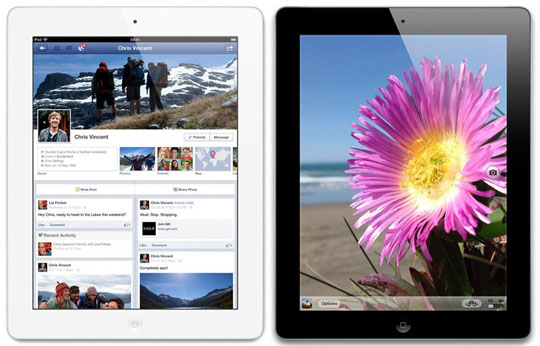 Praised as 'the ultimate tablet' many reviewers, Apple iPad 4 stand tall amongst all other large screen tablets. Much to the disappointment of iPad 3 owners, Apple has released iPad 4 in a quick succession. But the iPad 3 users need not to worry about upgrading to iPad 4 as there are subtle differences between the two and it is not worthwhile to buy iPad 4 unless the users are using the very old versions.
iPad 4 comes with a brand new 1.4GHz Apple A6X processor (iPad 3 has A5X processor). As per Apple's sources, A6X processor can work at double the speed of the predecessor thus enabling the users to play videos or games faster than ever. Tests conducted on iPad 4 have supported this claim.
The resolution is as big as 2048×1536 but same as iPad 3 and comes next to Google Nexus 10 which has got slightly bigger resolution with 2560×1600. But the 264PPI of density makes the pixels invisible. iOS 6 helps the users in smooth and fast operations and better multitasking. 5MP camera is similar to iPad 3 and the 1080P video recording gives full HD output with good detailing in each frame.
Google Nexus 10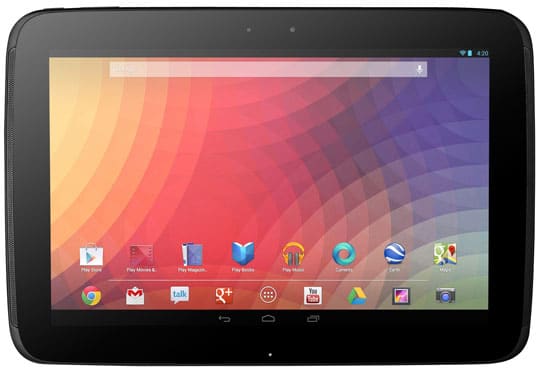 Alongside of its Nexus 7 that made its presence felt in small screen tablet segment, Google has come with Nexus 10 which has been released with bigger screen. It is praised as the budget big screen tablet from Google. This only shows that Google wants to compete with Apple and other tablet makers in all possible segments.
A 16GB Google Nexus 10 is estimated to be 20% cheaper than its Apple product of similar capacity and the 32GB Nexus 10 is again cheaper than its competitor. Google Nexus 10 is one tablet where being cheap does not get compromised with performance. It is one of the best performing tablets for sure.
Its 1.7GHz processor with 2GB RAM shall make it a fastest tablet in the market. It works on Android 4.2 i.e. the latest version. Weighing little over 600 grams, Nexus 10 can be felt weighty but it is lighter than iPad 4. Due its little wider screen, it can be put on a stand for long usages like watching a movie or reading an ebook. The longevity of the battery is one of the best in class. But the hitch with this battery is that it cannot be removed and replaced. So, there is a chance to hear few unlucky episodes wherein the users might have to dump the gadget due to worn-out battery!
Asus Transformer Pad Infinity TF 700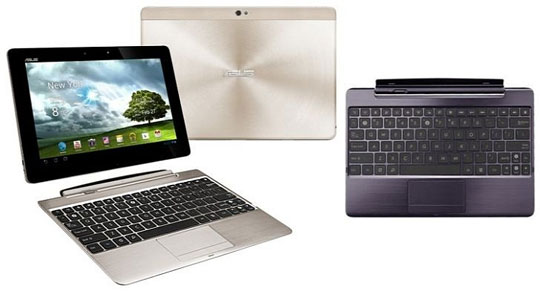 With its 10.1" screen, Asus Transformer Pad Infinity TF700 is surely the tablet with largest screen in the market. It offers more than 4% of extra viewing space for its users which is just awesome. But its resolution is lesser than the nearest competitors like Apple and Google as it stands at 1920×1600. Powered by Android 4.0 Ice Cream Sandwich OS coupled with 1.6GHz RAM from Nvidia, TF700 can be operated with ease to do multitasking activities.
Storage spaces are available in two slots i.e. 32GB and 64GB and Asus gives 8GB web space free for life time! If all these storages are not enough, users can attach their expandable memory card. So, for those users who need vast space to store, huge space out there in Asus Transformer to enjoy. Rear side camera with 8MP makes the images sharper and crisper. This is one of the best in the camera class. There are few Asus-specific exclusive features like "scribble" to create messages in one's own handwriting.
Dell Latitude 10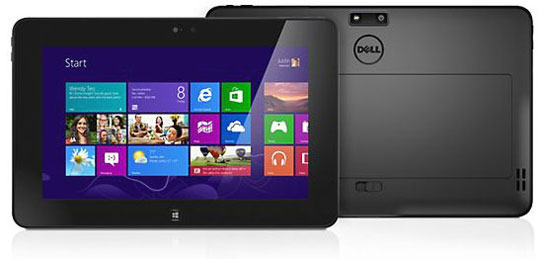 Dell Latitude 10 has been praised as one of the bets Windows 8 hybrids. Also, it has been recognized as the best business-class tablet than the mainstream tablets like iPad or Nexus. The Dell's idea, it seems, in launching Latitude 10 is to capture those users who want tablet's mobility but with productivity capabilities.
Coming with 1366×768 resolution, Latitude 10 looks relatively smaller than other tablets. But it falls under large screen tablet category due to its 10.1" screen size. Weighing around 660 grams, Latitude 10 is slightly heavier than others. It features an internal storage of 64GB. The higher end of Latitude 10 comes with removable battery.
Apple iPad 2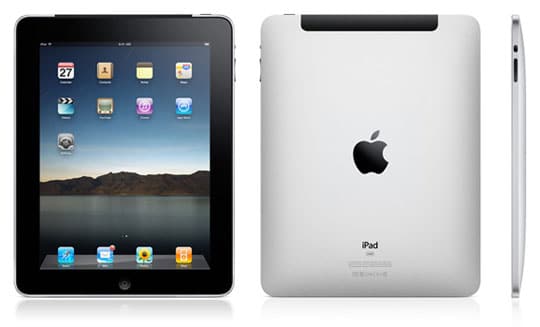 Well, we are talking about iPad 2 though we already have reviewed its next generation i.e. iPad 4. This is because Apple's iPad 2 still holds popularity with many users who look for affordable smartphones. It runs on iOS 5.1operating system and comes with two storage capacities i.e. 16GB and 32GB. It is lighter than iPad 4 and weighs around 600 grams.
Its screen size is 9.7" with 1024×768 pixels of resolution. But it sans the iconic iPad feature i.e. Retina screen. Users can create folders, access iTunes, can customize the screens and do many multitasking actions. It runs with 1GHz A5X processor and relatively fast. The rear seated camera is okay but not as good as the latest versions.
Samsung Galaxy Note 10.1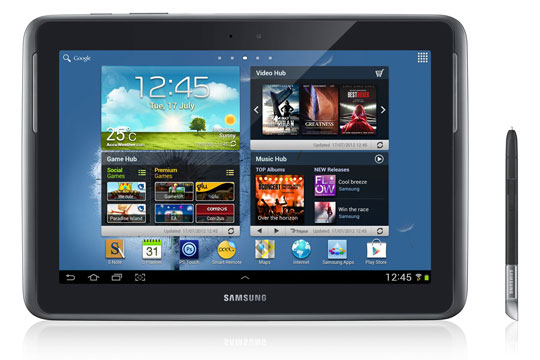 Samsung is famous for its quick releases of Android phones. Before Galaxy Note 10.1, it has released Galaxy Note 7, Galaxy Note 8, Galaxy Tab 2 and Galaxy Tab 2 10.1. The intentions of Samsung are pretty clear that it wish to reach out to as many users as possible. So, what is new in Samsung Galaxy Note 10.1 is the quintessential question.
Firstly it is high priced as the 16GB version itself costs around $600. Why is this skyrocketing price then? Experts and users have opined that the robust, intuitive and artistic features of Galaxy Note 10.1 are worth of that price. Some of them even gone far to say that Galaxy Note 10.1 'it is a dream come true in digital notebook segment.'
One of the peculiar features of Samsung Galaxy Note 10.1 is its 'stylus'. In an era of touchscreen smartphones, Samsung believes a lot in this age old styli renamed as S Pen for reasons known to them. It is lighter and weighs around 590 grams approximately and sleek with 0.38" thickness.
Another unique feature of Note 10.1 is its ability to show applications that are in use in multiple windows. The screen of 1280×800 resolution is quite current with its times. The other best feature is its 1.45GHz quad-core Exynos processor pulls the tablet for its optimum performance. It runs on Android 4.1.2 Jelly Bean OS. These two features facilitate users to watch a video on one window and scribble some notes on the other half of the screen. 1.9MP video camera comes with an ambient light sensor while a 5MP camera sits pretty on the rear side support by a LED flash. Along with these two good cameras, Galaxy Note 10.1 is bundled with Adobe Photoshop Touch to have the best image editing. These features might have prompted those experts and users to proclaim Samsung Galaxy Note 10.1 as 'the dream came true!'
Disclosure: Some of our articles may contain affiliate links; this means each time you make a purchase, we get a small commission. However, the input we produce is reliable; we always handpick and review all information before publishing it on our website. We can ensure you will always get genuine as well as valuable knowledge and resources.