In a daily basis lots of smartphones are being introduced into the market. At the same time, their features and specifications sometimes differ in huge or sometimes slightly from each other. These differences of these smartphones are totally dependable on the market researchers that the manufacturer does while doing the usage graph.
Doogee Voyager2 DG310 MTK6582 Quad-Core Android 4.4 Phone is one of the smartphones among all which is also creating a huge response among the public. This smartphone is dumped with lots of goodness in a form of features and specifications.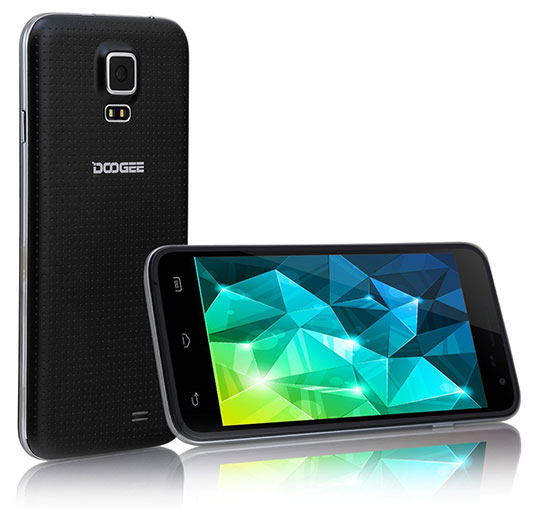 Doogee in past also brought to us lots of smartphones in the market. According to that, we can rely on their products and also to its Doogee Voyager 2 DG310 MTK6582. It has lots of good and utility features which can very easily grab the eyes of smartphone lovers. Let's draw me your attention towards their features and specifications in the little broader way.
1. Design & Display:
If you will give an eye on the screen of this phone you will see that its display is highly thin and transparent with three time's scratch resistant power. That means you will remain tension less of getting being scratched by any unwanted reasons. Next coming is the display screen size of this phone which is 5 inches and the total phone size is 146.6 x 73 x 7.9mm. The resolution of this phone screen is 480×854 pixels.
2. Features & Functionality:
This phone is dual SIM capable with 8GB of ROM and 1GB of RAM. The operating system of this phone is Android 4.4 and its CPU is built with MTK6582 Quad Core 1.3GHz. It also has the power or capacity to extend its TF memory up to 32GB which is also one of the best among all the features for any professional users. This phone is also enabled to other normal functionality like:
It is having the capacity of data transferring with the help of USB or Bluetooth.
It has mobile internet capability with the help WAP or WIFI.
You can send messages by doing SMS or MMS.
It has GPS with A-GOS support.
It has USB 2.0.
It has WIFI
It has Bluetooth
It has OTG facility.
It has a light sensor, G-sensor, P-sensor, Gravity Sensor and Gesture sensing.
It can support audio file format MP3, AAC, WAV.
It can support video file format MP4, 3GP, AVI, FLV.
Image File Format is JPEG
Earphone Port: 3.5mm
It is a multi-touch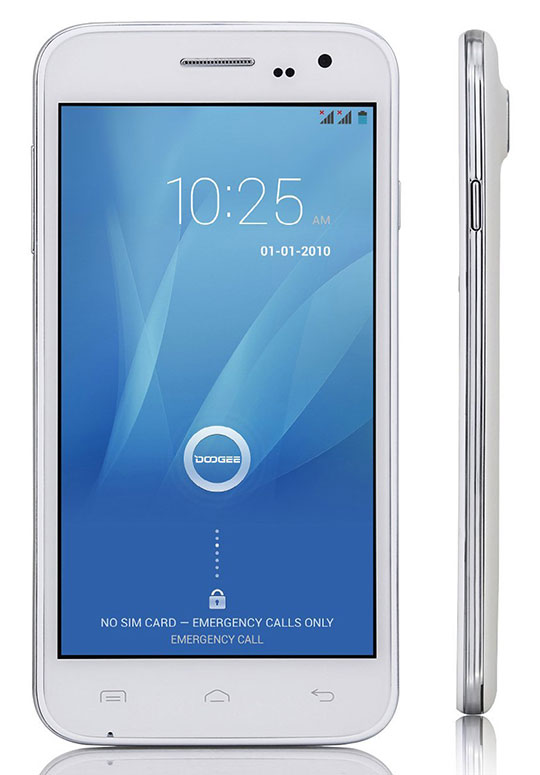 Not only this it also has one more good functional quality called direct calling by just body feeling. That means Voyager2 DG310 can make you feel very smart. Because this phone is having the capacity of automatic and immediate dialing phone numbers, just by holding the phone to the ear. Isn't it an attractive feature?
3. Camera:
It has a dual camera. The front camera is 1.3 Mega Pixel and the back camera is 5 Mega Pixel with LED flash capability.
4. Battery:
The battery used in this phone is a 2000mAh powered battery, which will give you a total around 1 days standby backup in huge usage.
Conclusion & Purchase Option:
The Doogee Voyager2 DG310 MTK6582 is really having lots of good features which can really attract lots of people. This smartphone is available in Amazon.com in a very reasonable pricing of just $71.96 and that also with free shipping. According to Doogee, this phone is doing very well in the market and it can very easily compete with many other smartphones available in the market. You can grab this phone which is having such a good qualities in such a reasonable pricing from Amazon.
Review Breakdown
The Doogee Voyager2 DG310 MTK6582 is really having lots of good features which can really attract lots of people. This smartphone is available in Amazon.com in a very reasonable pricing of just around $72 and that also with free shipping.
Additional Images:
Disclosure: Some of our articles may contain affiliate links; this means each time you make a purchase, we get a small commission. However, the input we produce is reliable; we always handpick and review all information before publishing it on our website. We can ensure you will always get genuine as well as valuable knowledge and resources.