Article Note: This article was first published on 5th February 2018. We have last updated this article on 27th June 2018 with fresh information.
When writing an article or essay, it is essential that the student or researcher provide proper attribution whenever outside sources are used, and especially avoid plagiarism issues. Indeed, professors and universities enact strict plagiarism rules and failing to abide by then can lead to serious consequences including the threat of expulsion.
Fortunately, there are plenty of online plagiarism checkers to choose from. This article will highlight 7 companies that offer such services: Copyscape, Grammarly, Small SEO Tools, EduBride, Study Moose, Quetext and The Penster. It should be noted that this article does not offer an endorsement of any of the websites or regard any of them as completely superior to the others. Indeed, all of them offer the basics that will protect the student from academic misconduct. Instead, the purpose is to be informative and highlight and compare the features and allow the reader to make the right decision based on their budget and expectations.
EduBirdie

The laws related to plagiarism are extremely strict and violation of any such laws may put you in big trouble. When it comes to content making, you can always refer websites available on the internet without infringing any copyright issues. If you have written some content or got it done from some other individual then you have to make sure it is 100% free from plagiarism. A tool like EduBirdie is definitely helpful to get your job done easily.
EduBirdie is a free plagiarism checker tool that lets you check your content to avoid any form of duplication. The only thing you need to do is to copy the content and paste it into the given field or attach the file to check it for plagiarism. Once submitted, the website will give you a report demonstrating the uniqueness percentage of your content. Whether it is an essay, academic paper, technical descriptions, case studies, product details or whitepaper, you can check any form of text through this tool. EduBirdie not only looks after the plagiarism but it also takes care of privacy of your content. The website maintains utmost confidentiality in maintaining the data of users thereby making sure everyone checks their content with total confidence. This is what makes EduBirdie one of the best plagiarism checking websites of today's time.
Recommended for you: 7 Excellent Productivity Hacks for Procrastinating Writers.
Copyscape

Copyscape is another tool that facilitates the checking of plagiarism at a quality level. Copyscape was started by Indigo Stream Technologies Ltd. It is an organization whose co-founder is Gideon Greenspan. Along with the plagiarism tool, Copyscape also comes featured with an additional service called Copysentry. Copysentry is an extra feature that helps the Copyscape users to secure their website by alerting them if anyone copies the content of their website by emailing them about the same.
Copyscape also features a much improvised and powerful plagiarism checking with its service known as Copyscape Premium. The premium service is charged at 5 cents for one search of plagiarism. This pricing is available up to 2nd April 2018 only, after which the pricing would be 3 cents for first 200 words of the content and 1 cent for every 100 words after the first 200 words. For this purpose, the Copyscape users can buy premium credits with the help of credit card or PayPal, prior to checking for plagiarism. The main difference between Copyscape's free plagiarism checking and Copyscape Premium is that Premium search provides more number of results of copied content, which is limited up to only 10 results in case of free search. It also allows searching for offline content search.

Grammarly

The San Francisco-based Grammarly Inc. is successful and noteworthy for its proofreading software that assists the user with correcting grammar mistakes, but the website also offers high-quality plagiarism-detection services. In fact, 4 million subscribers rely on Grammarly to make sure their papers are authentic and free of any plagiarism issues. Aside from the ability to scan 16 billion web pages, Grammarly also has access to ProQuest's entire database of millions of sources. The user is able to test out Grammarly's plagiarism-detection abilities by copying and pasting text into a box on the company's webpage, but once you give it a try you are required to sign up for a 7-day trial, after which the options are to pay $29.95/month, $59.95/quarterly, or $139.95/annually for their services. The pros are that you will receive top-of-the-line services, but the major negative is that this price might not be agreeable to casual writers or students who are on a budget.
That said, if you do choose Grammarly to safeguard your paper against accusations of stealing from other authors' works, you not only get an accurate and reliable report, you have access to a citation generator in the three most common styles: APA, MLA, and Chicago, and suggestions on how to make your paper better. For example, it will highlight issues with grammar use and writing style along with corrections. If you can handle the relatively steep price, the comprehensive grammar checks to go along with the plagiarism scan really does set this company apart from the others and practically guarantees a perfectly-polished paper.
Plagiarism checker by Small SEO Tools

Small SEO Tools provides the best ever free plagiarism checker that you just might stumble upon online, today. They've got developed their product with a thorough analysis, taking into consideration what the users rummage around for in a non-chargeable plagiarism checker. They've got enforced all the methods to form this most effective plagiarism checker free online.
Small SEO Tools understands that students deem tools for running plagiarism check on their research papers, personal research works, and other such contents, prior to submission. Therefore, Small SEO Tools has a tendency to come up with a free plagiarism computer code to assist students to establish plagiarism. This can be conjointly true for lecturers and writers. The free online plagiarism checker for college students, teachers, scholars, and writers is admittedly the most effective plagiarism check tool. Webmaster and SEO professionals may get pleasure from plagiarism computer code because it will facilitate them to take care that each one of the contents of their website is exclusive and plagiarism free. Recent and distinctive content might facilitate them to rank high in search engines. Small SEO Tools recommends the people to forever use a plagiarism detector before commercial enterprise or submitting their contents online or offline, to stop any unpleasant scenario.

Study Moose

Study Moose is an academic platform headquartered in Wilmington, Delaware that primarily focuses on assisting students with essay writing help. In particular, for a reasonable fee based on the length and academic level, students can receive custom essay examples which they, in turn, can use as guidance when completing their own assignments. The company also offers a plagiarism checker which, unlike the others, is completely free. For many users, this is a big bonus. In addition, a major feature that differentiates it from other websites is the free option of uploading documents (as noted, the other websites only provide this as part of their paid services).
It could be said that Study Moose's plagiarism checker is no-frills. Once your report comes back, it highlights the sentences that come back as plagiarized and provides a percentage of the total work that was flagged as not being original. The software seems to struggle with scanning lengthy documents, but if you break it up into smaller parts (for example, into files of 5 pages each), it does the trick. The bottom line is that for students who are on a budget and who don't necessarily need all of the fancy extras that other websites offer (and aren't interested in being charged monthly fees), this is a reliable choice that will definitely safeguard you from accusations that you lifted sources from other authors.
You may also like: How to Write Content that Will Appear in Google SERP Snippets.
Quetext

Quetext, based in Kansas City, Missouri, is the developer of plagiarism-detection software that has served more than a million teachers, students, and professionals around the globe. What makes this company successful? Quetext has compiled a database consisting of 20 million books, a million journals, and 35 billion web pages. Their patented DeepSearch™ technology utilizes finely-tuned algorithms that allow the user to compare their paper with billions of sources. In particular, this software does not merely check for text that is copied word-for-word, it also focuses on context. To put it another way, it considers the probability that a certain work has been lifted from other sources based on the meaning of the text, even if the writer used different words. This adds an extra layer of protection for researchers and authors who worked hard on their texts.
The free version of Quetext's plagiarism-detection checker runs on an easy-to-use platform. All the user has to do is copy the text and paste it into the box, click the "plagiarism check" button, wait as the text is compared to billions of sources, and receive a report indicating what percentage of the text was flagged as being taken from other works. However, the free version has certain limits. The user cannot upload files and is limited to 3 searches and 3 reports unless they upgrade to the paid subscription. But at $9.99/month, most users will consider it worth the cost. This website does not contain all of the features that Grammarly possesses (as will be discussed below), but if your focus is on making sure your paper passes muster, it is a nice option. Aside from the ability to upload as many as 50 pages at a time (Word or PDF files), the user is able to take advantage of the benefits that DeepSearch offers in terms of complete and thorough plagiarism checking.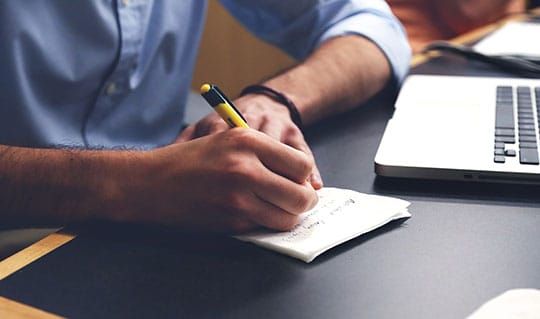 The Pensters

The Pensters, with its main offices in Cyprus, is another academic platform site that offers help to students who are struggling with completing their essays and coursework. Its plagiarism-checking services act like something in between Study Moose and the other two websites. On one hand, users can copy and paste 5 texts per month for free, which is really convenient if you are a casual blogger or only write papers from time to time. On the other hand, it also requires payment once the user reaches the limit. You have the option to receive any additional plagiarism reports beyond the first 5 at 50 cents per page. The fact that the user pays as they go rather than a flat fee can be beneficial for those who are on a budget and who only write a few pages a month.
To illustrate this, students who pay for monthly subscriptions with some of the other services are basically wasting their money during the summer months since they are not writing papers. But the Penster's "no obligations, no-strings-attached" approach provides the flexibility that the others cannot. When you give it a try, the results are generally accurate and reliable. While this website does not contain a large database of material to check from, it does match up the papers with the billions of web pages that are available on search engines such as Google. So, in the end, it really does achieve what most students are looking for.
Disclosure: Some of our articles may contain affiliate links; this means each time you make a purchase, we get a small commission. However, the input we produce is reliable; we always handpick and review all information before publishing it on our website. We can ensure you will always get genuine as well as valuable knowledge and resources.