Article Note: This article "11 Excellent Document Editing Software You Can Use Now" was first published on 3rd July 2018. We last updated this article on 2nd August 2022 with fresh information.
Technology has eliminated the need for paper documents for keeping records. Now most of the business processes, right from the maintenance of client information to creating an important business-related document, have gone digital. The digital age has given rise to new age document editing software to keep up with the changing requirements of users. Over the past decades, there has been a significant evolution in document management solutions. Earlier, when someone mentioned document creation or editing, Microsoft office software was the key player. But, the scenario has changed. Microsoft Office is still a major player in this industry, but there are several other free and paid software you can consider.
Excel sheets, Pdf files, PowerPoint presentations, and Word files have a great role to play in everyone's personal as well as work life. Every day you need to deal with a lot of such documents for the smooth functioning of your important projects. But sometimes, you come across situations when you need to do a lot of editing with these documents to achieve perfection. This is where third-party software or tools come into the picture that helps you to do necessary changes to your documents. Here are some of the best document editing software you can consider using in the current year:
1. PDFelement

PDFelement is a perfect alternative to Adobe Acrobat which lets you do the necessary editing of PDF files. Get total control over your PDF files as the software also offers advanced edition options in which you can do cropping, mirroring, and rotating using some graphics-based tools. The software provides a superior OCR experience along with table recognition. The software supports 9 different languages and it is available for Android, iOS, Mac, and Windows. So, go ahead and revolutionize your old forms into highly interactive ones with PDFelement.
Recommended for you: PDFelement 7 Review – What Will You Get in the New Version.
2. Microsoft Office

Whether it is power presentation, excel sheets, Outlook, OneDrive, OneNote, Access, Publisher, or word document, you can edit everything with Microsoft Office. After subscription, you will get the latest versions of the software that are updated on a regular basis. Microsoft Office is one of the most versatile software that is suitable for home, business as well as educational purposes. A user of any age finds it comfortable to use from the place of his choice.
Microsoft has hit a chord with a free online version of the paid MS Office. You do not need an MS Office desktop license to use Office Online. It is meant to be a complementary version of desktop software and comes with a range of features similar to Google Docs. Sharing Office Online documents is really simple with the Share button on the top right corner. As it works in the browser, you do not have to worry about saving the file again and again. All changes are saved automatically. It does not have the feature of editing PDF files.
3. FillHQ

Whether it is a sales contract, purchase order, NDA, or any kind of agreement, maintaining all documents is a huge task. Sending and signing any documents and receiving the same from other parties is quite a time-consuming process. Most businesses struggle to do so in an organized way. This is no anymore the case with FillHQ.
FillHQ, or simply Fill, is an easy-to-use online tool that helps you to fill, sign, send and receive documents at your convenience. Just open the Fill app and upload (or scan) your own documents to start using it. You can even create your own customized templates on their app. Fill is available for macOS, Android, and iOS. You can also use the web version of this app in any browser.
Scanning and capturing any documents, filling any forms, eSigning, and sharing them with your team is so simple with Fill. All your documents are stored and organized online in the cloud for easy accessibility. With their secured 256-bit encryption implemented on their app, your documents will remain secure.
You can start using the basic and most important features of Fill absolutely free without any hidden cost. It comes with unlimited document uploads and fillings, and unlimited signature requests. They also have two different pricing plans for small businesses and corporate users. The "PLUS" and the "PRO" plan costs you around $5/month ($50/year) and $15/month ($150/year) respectively.
4. PDF Agile


PDF Agile is a powerful tool for creating, editing, converting, compressing, and securing your PDF files. Editing your PDF files is so easy with PDF Agile. Adding images, altering the fonts and text size, editing the line spacing, and even changing the layout of the entire document, all is possible. You can convert your PDF documents efficiently to/from all common file formats (like DOC, PPT, TXT, CAD, etc.) without losing the original formatting of your document.
To empower your reading experience PDF Agile provides 3 different modes (Read Mode, Full-Screen Mode, and Slideshow) to switch between. The PDF Agile software is also integrated with a very robust Optical Character Recognition (OCR) engine. It helps to extract texts from any images or scanned PDF files so you can edit and reuse them as normal texts. Adding pre-defined content (like headers, footers, watermarks, stamps, etc.), merging and splitting documents, and dragging and dropping pages from one document to another, all are possible with PDF Agile.
PDF Agile also comes with many useful features. You can add password protection to your documents to prevent unauthorized access. You can even delete sensitive data permanently from your documents. Also, you can add your electronically generated signatures to any documents to sign electronically. This is quite useful to quickly sign and send any online contracts or forms. It is quite a handy tool that you should consider adding to your arsenal.
They have a free version of their tool where you can use their PDF reading and annotation features. To avail yourself of the features like editing, converting, and protecting your PDF documents, you need to buy the premium version of PDF Agile. It will cost you $39/half year and $59/year.
5. Evernote

Evernote is one of the most sought-after platforms for creating, managing, and editing notes. It lets you maintain your work in a more organized form. You can collect your entire data and keep it in one place using Evernote. The software lets you search even handwritten notes. You can also customize your notes with tables, checklists, links, audio recordings, and attachments. If you want to explore what Evernote has got for you, then simply sign up for a free premium trial version of this amazing tool. Another highlight of this tool is that you can collaborate and share your notes with others.
Evernote is considered to be the king of note-taking apps. No matter how many sheets and documents you make, there is always a need to write short notes. This is where Evernote comes into the picture. It can be easily integrated with other apps like Slack, Google Docs, Outlook, Salesforce, and more.
6. Acrobat DC

If you want a tool that will offer you more than just editing PDF files then check out Acrobat DC. It offers several features that let you get your work done from the web, computer, or Smartphone. Explore several premium features of this tool with some unique plans available on the website. With these plans, you can edit the text as well as images in your PDF file. You can create, sign, and fill out forms with total ease. Acrobat Pro DC also allows you to create PDF files and export them to PowerPoint, Excel, or Word documents.
You may like: VSDC Free Video Editor Review – A Free Software for Video Editing.
7. Apache OpenOffice

Just like Microsoft Office, this software lets the user edit presentations, excel sheets, forms, and documents. Apache OpenOffice is free to download, distribute, and use. The software has a long history and on the virtue of this experience, it has got millions of satisfied users until today. You can use it for varied purposes such as educational, private, government, commercial, public administration, and much more. Once you download this software, you will get access to different tools such as Writer, Calc, Impress, Base, Draw, Math, etc.
8. Google Docs (Sheets, Slides, Forms)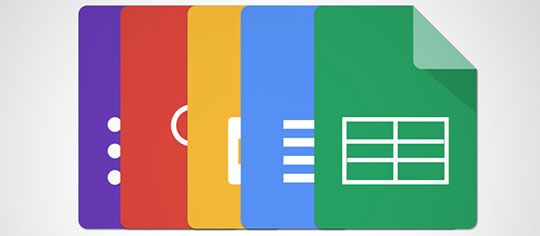 In your professional or educational journey, you surely must have come across Google Docs at some point of time. The best part about Google Docs and the related tools is that it allows you to create, edit, or share documents right from your browser. There is no separate dedicated software required.
Google Docs, Sheets, Slides, and Forms lets you create useful docs, sheets, slides, and forms with total ease. You can edit and collaborate on those for free from wherever you are. A wide range of templates you can access lets you execute your task efficiently thereby achieving high productivity. You can access your files from a computer, tablet, or smartphone even though there is no internet connection. Another important feature of this tool is that all the changes are saved automatically. The revision history is also maintained so that you can check who made the changes and what changes were made to the document.
The team at Google is constantly adding new features and tools to Google Docs to further expand its capabilities. So, if you had used Google Docs a few months or years back, do check the platform again. You will be surprised to find new valuable additions to it. It is also easy to share the documents and allows multiple users to edit, chat, and annotate the document.
9. Apple Pages, Numbers, and Keynote

Apple Pages, Numbers and Keynote lets you develop well-organized spreadsheets that cover several images and tables. You can create documents that are exemplary for amazing creativity. A user can use an Apple pencil to produce illustrations and diagrams that will give additional grace to the slides. The keynote lets the user create presentations of his life through stunning effects and extraordinary tools. The more time you spend, the more you will explore this fabulous software.
10. WPS Office

One of the best free all-in-one office productivity suites, WPS Office has seen quite a significant success over the past years. The PC version of this software is free, while there is a paid advanced version for mobile devices. The ads in the mobile version can be removed through subscription. It is loaded with a range of powerful features for document editing and management.
WPS Office can be used to edit a wide range of file types, including programming files and you can also convert files between different formats. All files created and managed in WP Office can be saved on cloud platforms like DropBox, Google Drive, and One Drive. The main feature of this tool is the fully functional PDF editor and manager that has been included for free. This is a word processor that is feature-packed as MS Word.
11. PandaDoc

PandaDoc has created a niche segment for itself, as it has marketed itself as a sales-focused document manager. This document manager comes with special features for sales and business. Its document editor comes with themed templates for content, branding, and image libraries to store assets that can be reused. It also comes with analytics tools to analyze how long are people spending on each item. This tool definitely appeals to people who want to manage their finance and sales via a document manager. You can also collaborate with the workspaces. But multiple users cannot able to access the files.
You may also like: WonderFox DVD Ripper Pro Review 2020 – The Easiest Way to Rip, Convert & Edit DVD.
The Bottom Line

Does document management feel like an overload for your business? Well, you certainly are not handling it the right way. All these document editing software tools are designed to make document creation and handling effective, efficient, and time-saving. So, go ahead and check out above mentioned document editing software to execute your task in the most effective way!