Recently I read one very interesting and useful e-book related to Search Engine Optimization. This really help me to learn a lot of concept about SEO. And also the tips are very useful to increase search engine ranking of your website. So here I am sharing the content of that e-book with you all. Hopefully this will also help you to increase your knowledge in Search Engine Optimization. This is the Part 4 of 4 articles  – Sitemaps.
Sitemaps
Site map submission
We strongly recommend that you build a site map in XML as outlined on www.sitemaps.org. This is one of the few initiatives where Google, Microsoft and Yahoo have all agreed to a common file format that all search engines will use: robot.txt format. All three search engines use this map to crawl your sites. It requires that your site is set up and created in such a way that every time a page is removed, changed, or deleted, the XML sitemap is updated. You will find specific examples on how to implement this at www.sitemap.org.
It is also possible to manually submit all of your pages to Google via the webmaster tools. For complete instructions in how to submit site maps to Google, Yahoo!, and Bing go to the addresses provided below.
Google provides the following great overview of sitemaps. Take a few minutes to review and understand this. Again this is one more action you can employ to give you an edge over your competitors. Overview:
The Sitemap Protocol allows you to inform search engines about URLs on your websites that are available for crawling. In its simplest form, a Sitemap that uses the Sitemap Protocol is an XML file that lists URLs for a site. The protocol was written to be highly scalable so it can accommodate sites of any size. It also enables webmasters to include additional information about each URL (when it was last updated; how often it changes; how important it is in relation to other URLs in the site) so that search engines can more intelligently crawl the site.

Sitemaps are particularly beneficial when users can't reach all areas of a website through a browseable interface. (Generally, this is when users are unable to reach certain pages or regions of a site by following links). For example, any site where certain pages are only accessible via a search form would benefit from creating a Sitemap and submitting it to search engines.

This document describes the formats for Sitemap files and also explains where you should post your Sitemap files so that search engines can retrieve them.

Please note that the Sitemap Protocol supplements, but does not replace, the crawl-based mechanisms that search engines already use to discover URLs. By submitting a Sitemap (or Sitemaps) to a search engine, you will help that engine's crawlers to do a better job of crawling your site.

Using this protocol does not guarantee that your webpages will be included in search indexes. (Note that using this protocol will not influence the way your pages are ranked by Google.)

Google adheres to Sitemap Protocol 0.9 as dictated by sitemaps.org. Sitemaps created for Google using Sitemap Protocol 0.9 are therefore compatible with other search engines that adopt the standards of sitemaps.org
Google Webmaster tools is chuck full of handy items and information. The following is an example from the Google webmaster tool of an XML sitemap. The Sitemap in the example contains a small number of URLs, each of which is identified using the XML tag. In this example, a different set of optional parameters has been provided for each URL.
<?xml version="1.0" encoding="UTF-8"?>
<urlset xmlns="http://www.sitemaps.org/schemas/sitemap/0.9">
<url>
<loc>http://www.example.com/</loc>
<lastmod>2005-01-01</lastmod>
<changefreq>monthly</changefreq>
<priority>0.8</priority>
</url>
<url>
<loc>http://www.example.com/catalog?item=12&amp;desc=vacation_hawaii</loc>
<changefreq>weekly</changefreq>
</url>
<url>
<loc>http://www.example.com/catalog?item=73&amp;desc=vacation_new_zealand</loc>
<lastmod>2004-12-23</lastmod>
<changefreq>weekly</changefreq>
</url>
<url>
<loc>http://www.example.com/catalog?item=74&amp;desc=vacation_newfoundland</loc>
<lastmod>2004-12-23T18:00:15+00:00</lastmod>
<priority>0.3</priority>
</url>
<url>
<loc>http://www.example.com/catalog?item=83&amp;desc=vacation_usa</loc>
<lastmod>2004-11-23</lastmod>
</url>
</urlset>
Onsite sitemap
Don't confuse the above instruction with having a Site Map page on your site. You should create a page on your site that is called "Site Map". We typically place the link to the site map in the footer menu – but you are welcome to place the link wherever you like on your site. The site map page helps your customers navigate the site more easily. It also provides opportunity for internal linking on your site (see Links Are Queen).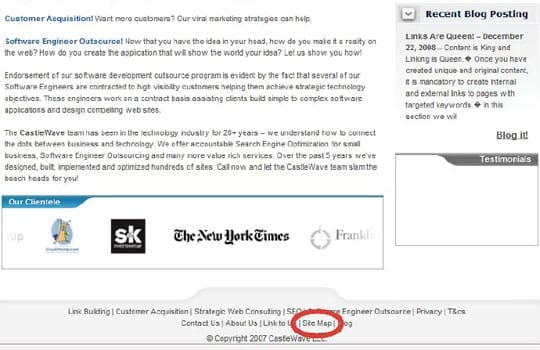 The site map that appears to the customers coming to your site will look something like the site map below. Customers who go to this page may click on each entry in the Site Map and link directly to the page represented. By clicking on Contact Us the user goes directly from the site map page to the Contact Us page.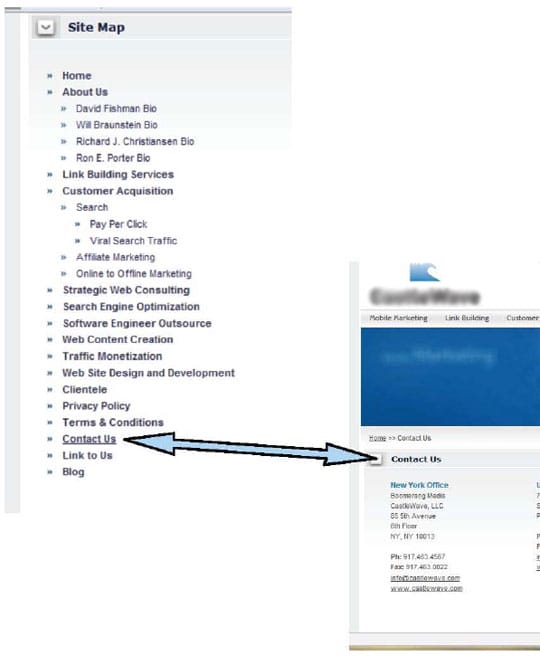 Thanks for reading the article. If you also like this article like me please share the story. Also do not forget to comment me back.
Disclosure: Some of our articles may contain affiliate links; this means each time you make a purchase, we get a small commission. However, the input we produce is reliable; we always handpick and review all information before publishing it on our website. We can ensure you will always get genuine as well as valuable knowledge and resources.