Recently I read one very interesting and useful e-book related to Search Engine Optimization. This really help me to learn a lot of concept about SEO. And also the tips are very useful to increase search engine ranking of your website. So here I am sharing the content of that e-book with you all. Hopefully this will also help you to increase your knowledge in Search Engine Optimization. This is the Part 3 of 4 articles – Structure.
Structure
Content, Then Links, Then Structure
After the importance of content and links, follows structure. Good site structure is critical because it:
Enables you to obtain long tail traffic
Enables spiders to navigate proficiently giving it the ability to get to more pages
Allows the spider to clearly understand what the page is about
File Structure/Database Naming
When using the database ensure there are no question marks in the file structure name. Most databases have a mod-rewrite function which allows you to name the structure according to the categories and words rather than random alphanumeric symbols.


Notice the url string in the search bar above. Even big sites, like American Airlines, make the simple mistake of not using correct structure. There is no reason for the "…?anchorEvent=false" in the URL. What does "…?anchorEvent=false" have to do with American Airlines or flying or NetSAAver special offers?
We're all for giving the spider and your users all the clues they need to understand what your site is all about. Do not think that content and linking are enough. Your competition doesn't. SEO is a fine symphony, every piece needs to fit together to make just the right noise!
An integral part of the naming convention is to include the product name and the category name, yet another clue for the spider. Check out this site (one of our favorites!). They know how to structure their url strings correctly:


Notice how the url string contains the exact description of the product, "Ibex 405 Full-Zip Sweater – Women's" These guys do this time and time again and their effort gives their customers confidence they have ended up where they want to and the spider know that much better what the page is exactly about.
Appropriate use of Java is ok but building an entire page of Java or flash is not good for the spiders. Spiders do not see flash as content. When possible build them as static HTML pages. Static HTML pages don't change and the spiders like that. If a page is continually rebuilt the spider has difficulty interpreting that page and attempting to link to a page that changes every day is impossible.
Titles, Meta tags, Meta Descriptions
TITLES, META tags, and META DESCRIPTIONS should support each other and be relevant to the content of the page. As a spider "enters" a page it begins looking around. It is vital that the content and info on each page match title, meta tags, h1, and meta description. Otherwise the spider will get confused about what the page is really about.
Many sites are so crammed full of junk or organized in such a manner that the spider is totally confused. Of course the opposite is just as bad. Not enough content (too much flash, java, and images not named correctly) results in the spider leaving the site clueless. Both results are to be avoided.
In a nutshell:
Name titles according to page.
Make sure all pages are linked together
Make sure that spider is invited into the room. (robots.txt)
Ensure meta description words match the page content.
Use header tags whenever possible and ensure they match the title of the page.
In the example below, this site has focused its title tag (noted in the red oval) on the keywords: Pizza Coupons, Free Pizza Coupons, and Online Pizza Coupons. Note how their Meta Description (in the HTML code, next page) supports that title tag.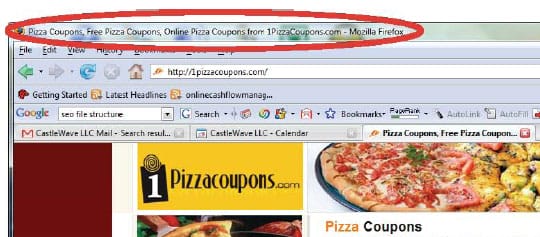 Meta Description
<meta name="description" content="This site was created for one simple reason, to provide a single location for free pizza coupons to your favorite pizza maker. You could always get pizza coupons from your Sunday newspaper, but we've made it quicker and easier for you to get online pizza coupons from 1pizzacoupons.com." />
A good rule of thumb for META DESCRIPTIONS is to keep the description about 25 words. They have also added an h1 tag (circled in the oval below) that includes a term found in their title tag and meta description. <h1><span style="color:#ff7b0e;">Pizza</span> Coupons</h1>


Alt Text Tags
Whenever possible images should be named something relevant to the keywords you are using to drive traffic to the page the images resides on. Every image needs to have a descriptive alt text tag. This will not only give hints to the spider, but also allow for more searched images. It is estimated that about 15% of searches on the web are image searches.
For the pizza site we've been using as our example, check out how they named their image of the juicy pizza in the left navigation bar. Note the Alternate Text: Online Pizza Coupons. Even though the spider does not understand what an image is, the alt text tag does provide it with an understanding of what the image represents. Missing and irrelevant alt text tags do not help.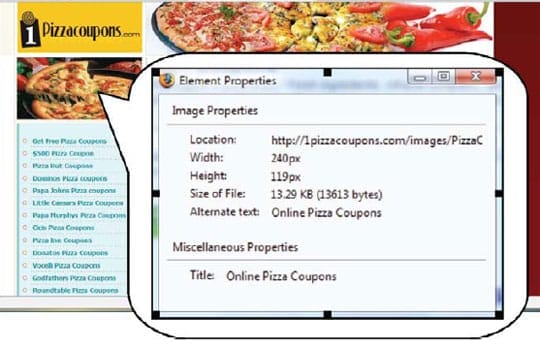 The overarching idea here is to ensure your content, title tag, meta description, h1, and alt text tags all are relevant to the site and support each other. Your customers will appreciate the consistency and it ain't bad for the search spiders either!
Thanks for reading the article. If you also like this article like me please share the story. Also do not forget to comment me back.
Disclosure: Some of our articles may contain affiliate links; this means each time you make a purchase, we get a small commission. However, the input we produce is reliable; we always handpick and review all information before publishing it on our website. We can ensure you will always get genuine as well as valuable knowledge and resources.