Here in this post I am listing some latest premium Joomla templates release in October 2011. All are very good quality Joomla templates, several color themes are available, compatible with all latest browsers (FF, Safari, Chrome, Opera, IE7+) and most importantly all are seo friendly.
01. CLOUD – BY YOOTHEME

Cloud, theme release by Yootheme for October 2011. Cloud comes with a clean and light design using soft-colors, which makes it suitable for all kinds of webites specially for e-commerce, business or magazine sites. A variety presets for colors, backgrounds, textures and fonts, makes it easy to customize the overall style to fit your needs. Further Cloud offers a rich typography and a broad range of module variations with optional icons and badges.
Widgetkit gets some new features as well with the latest Beta 12 version. This update is all about styles for the slideshow and gallery widget! Yootheme added popular style variations like a showcase style which lets you display a set of buttons for navigation below your slides. Additionally they create a nice and clean tab style with a optional toolbar and a fancy list style. All new styles make use of modern CSS3 techniques which allows to create a awesome look by still maintaining a optimized performance and a compact file size.
Features of this theme:
Available for Joomla 1.5, 1.7 and WordPress
Choose from 9 styles combinable with 7 textures, 8 color schemes and 10 fonts
4 module styles combinable with 4 badges and 6 icons
4 Custom styles for Widgetkit
Matching mobile theme
All Warp framework features are available
02. MOMENTUM – BY ROCKETTHEME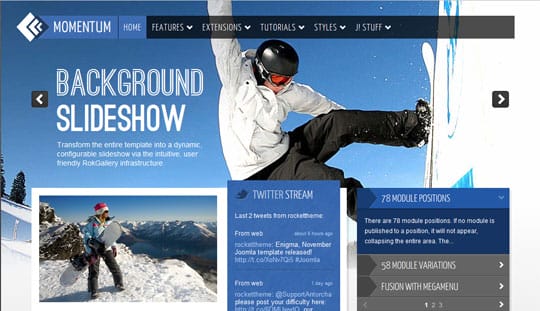 Momentum, the October 2011 template release by RocketTheme, combines an intricate graphical design with the intuitive dynamics of RokGallery or RokStories, providing for a full scale background image, rotatable and configurable via the module, RokGallery and Gantry administrative interfaces.
RokGallery is elegantly styled and featured, in addition to several other popular RocketTheme Extensions such as RokTabs and RokNewsPager. Additionally, the standard selection of features, such as the Gantry Framework and mobile support are also present.
Features of this theme:
Joomla 1.5/1.7 versions
Color Chooser with Background Picker
RokGallery Powered Background Slideshow
Gantry Framework
6 Preset Styles
RocketTheme Extensions Styling
Custom Content Typography
Fusion & Splitmenu
Load Transitions
78 Module Positions
58 Module Variations
FF, Safari, Chrome, Opera, IE7+ Compatible
W3C XHTML 1.0 / CSS Valid
03. DUANPEH – BY JOOMAGIC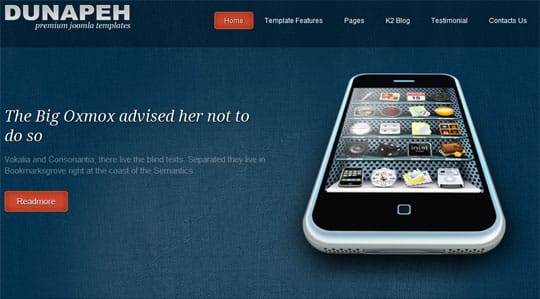 Dunapeh template simply has everything you need to run a professional looking website. This easy to use, easy to implement, easy to support template is exactly what you need to run a scalable Joomla website.
Features of this theme:
Joomla 1.7
Clean W3C Valid HTML+CSS and XHTML+CSS Coding
HTML 4.01 Transitional & XHTML 1.0 Transitional
Hand coded markups
Cross browser compatibility (IE7, IE8, Firefox, Opera, Safari and Google Chrome
Optimized code for search engines which helps in SEO
MooTools enabled
T3-Framework
Infinite color options to choose from
CSS styling for K2 included
04. BOUTIQUE – BY GAVICKPRO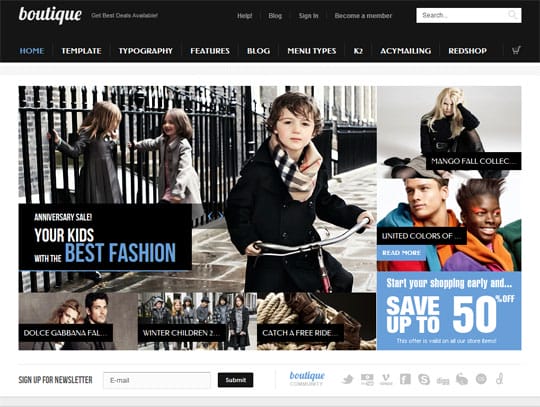 GavickPro are pleased to launch a new project, the first experience with the popular e-commerce Joomla! component – RedShop, where they put together the best of this tool to an elaborate, tempting and elegant design with the usual quality from GavickPro.
To insure the best sales promotion at your store, they also included AcyMailling component, probably the most popular and free Joomla! System tool for Mailing activity. It will help you to promote your in-store marketing among your customers.
Features of this theme:
Build in support for 3d Party Products like redShop, AcyMailling, K2, Tabs Module, News Show Pro GK4, Image Show GK4
Template based on Gavern Framework
3 Color Themes support ( red, blue, violet)
2 different styles of top page
Supports multiple layout options, configured within seconds from backend.
Template support for MooTools 1.2
Multiples modules suffix's build-in template for module styling.
Improved template parameters administration panel with friendly interface and automatic check-in available template updates.
Disable option for mainbody appearance on front page.
Option for mainbody and component position display.
Improved style of Joomla! Core system pages.
Page layouts overwrite option on template parameters.
Option to enable PHP code optimization on template rendering.
Option to enable CSS compression on template rendering.
Option to enable CSS cache.
Google Chrome Frame Meta Support.
Option to enable override css classes on template rendering.
Full block's size for user customization on template parameters.
Option enable/disable style switcher on frontend.
Option for family and size font on template parameters.
Option for customize tools display for specific page.
Option enable/disable CSS3 styles on template rendering.
Option enable/disable Google Chrome Frame support.
Easy footer content configuration on template parameters.
Build support for WYSIWYG Friendly Template Typography editor with GK Typography plugin.
Compressed engine option for each GavickPro modules.
Support for native language file translation.
Impressive built-in content style.
Lightweight, modern and very fast-loading design.
W3C XHTML 1.0 Transitional. W3C CSS Valid.
Fully compatible IE7+, Firefox 2+, Firefox 3, Flock 0.7+, Netscape, Safari, Opera 9.5, Chrome.
05. YOUFACT – BY YOUJOOMLA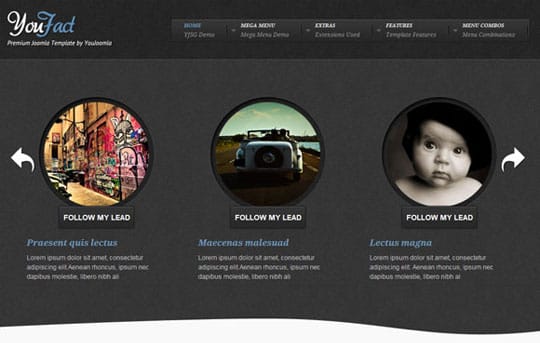 The unique layout and design features of YouFact has pushed YouJoomla developers to the edge to create something new and fresh for their customers. Demanding beauty of YouFact will captivate your visitors and let your website stand in brightest light.
New and unexpected YJ Module Engine has gave the power to create YouFact News Engine Module that will take your breath away with special animations and flexibility. In YouFact extensions spectrum also belong: YJ Newsflash Ultimate, YouYork Module Slider and always special K2 Joomla Extension with powerful layout and beautiful image effects.
This templates marks a new era of YouJoomla extensions and templates development. With YouFact they again prove the ingenuity of their development team and assure you that they will always try to reach higher to satisfy your needs. Youfact is developed for Joomla 1.5/1.6/1.7.
Features of this theme:
100% Tableless design
XHTML Valid
CSS Valid
JS Valid
508 Valid
SEO features build in
YjSimpleGrid powered
48 collapsible module positions
PSD files included
Joomla 1.5 template
Joomla 1.6/17 template
Joomla 1.5/1.7 demo
CSS dropdown menu
SMooth dropdown menu
Split menu
4 CSS styles combos
Flexible frontpage layout
Native RTL Support
Server side Compression
Demo Starter
Extra Typography styles
IE6 png fix
Adjustable width
Font resizing
06. JA ERIO – BY JOOMLART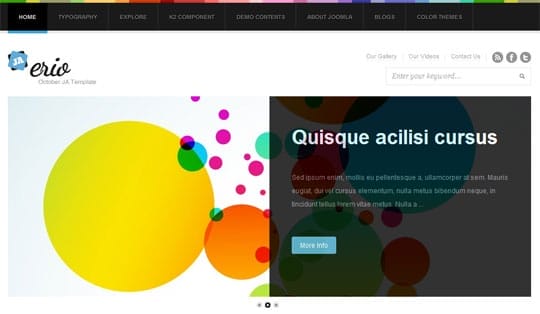 October 2011 brings JA Erio – Blog / Portfolio Template for Joomla ! 1.5 and Joomla 1.7. Simplicity at its best and comes in 6 color options and multiple module layout options – JA Erio combines the power of Joomla CMS with the dynamic creative content control of K2 (joomla 1.5 only) integration to provide a unique/multi-purpose blog and/or news/informational content resource.
As with all of Joomlart's latest templates, JA Erio is built using the powerful open source JAT3 Framework – giving you the ultimate flexibility and speed.
Powered by robust T3 Framework 2, it comes bundled with multiple complimentary extensions.
Features of this theme:
Running on T3 Framework Version 2
6 color options
4 Menu options: JA Split, JA Css, JA Dropline & JA Mega menu
inbuilt Google Fonts configuration
Inbuilt CSS and Javascript Compression
Joomla 1.5.x & Joomla 1.7.x compatible
Cross Browser Support: IE7+, Firefox 2+, Safari 3+, Chrome 8+, Opera 9+ and other Standards-Supporting Browsers.
XHTML 1.0 Transitional
CSS Validates
Valid 508 Accessibility
Well-commented template_css.css and index.php file for flexible customization
07. HEXICON GAMER – BY SHAPE5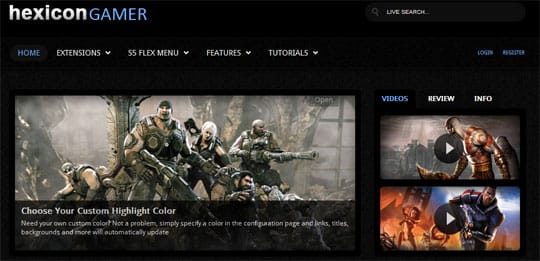 Looking for a great gaming joomla template? Then look no further, Hexicon Gamer has it all! Whether you are setting up a gaming website or just a website that needs a dark theme such as a site for electronics, clothing, photography, art, and so much more Hexicon Gamer has the tools to make your site a success!
This template comes packed with all kinds of features such as 94 module positions so you never run out of space, 5 module class suffixes to give your site plenty of style, a stylized S5 Vertical Accordion, S5 Tab Show, S5 Accordion menu and much more! Best of all this template includes all the great features of the S5 Vertex Template Framework. Be sure to check out the demo page to see it in action!
Features of this theme:
S5 Vertex framework platform
94 collapsible core template positions plus 4 mobile positions
5 custom module suffixes
Dynamic module titles
Custom highliight color
S5 Flex Menu integrated
Choose fluid or fixed template widths
Custom column, page and row widths
Mobile device support
Designed with CSS3 – Limited support for IE7 and IE8 through PIE
RTL language support
Drop down panel
3rd Party Stylings for Tienda, Virtuemart, and K2
Google Fonts
SEO optimized
Hide component area on any page
Fixed tabs
Menu scroll to section
Site shaper available (Joomla install that includes demo data)
PSDs included
Multibox enabled
Lazy Load enabled
Tool tips enabled
100% tableless CSS
Validates with XHTML 1.0 Transitional
Validates with CSS Level 3 with browser specific calls
Compatible with the browsers: IE7+, Firefox 1.5+, Opera 9+, Safari, Advant, Chrome
08. IT PROPERTY – BY ICETHEME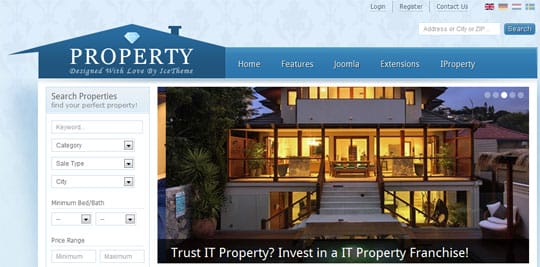 For October IceTheme is proud to announce the release of its first Real Estate premium template. The IT Property Joomla Template is built-in with the marvelous IP (Intellectual Property) component from TheThinkery and while they have fully customized this component to suit the design and layout of the template, all you will have to do is add your properties and you are done.
After studying tens of the very best Real Estate websites, Icetheme have carefully chosen the colors, layout and the overall design and as well all the elements that a Real Estate website may need. The IceCarousel and the IceAccordion modules now are ready to display (with some nice effects and options from the module parameters) the IP's properties.
Also with 4 stylish color schemes available they are 100% sure that your next Joomla website will not only stand out from the crowd but you will be able to have exactly the colors of your business (this is easily possbible also with the PSD files ready in the package.)
Features of this theme:
Clone Installer: Get your website exactly as demo within 10 minutes with the Clone Installer package.
Fast Templates: This templates are developed to run fast but the IceSpeed plugin will 400%+ further faaten your website.
Template Styles: Immediately suit to the color scheme of your project by selecting one of the the pre-built Template Styles.
PSD Files: You may easily modify all the template design part as the theme provide the full Framed Photoshop file.
Browsers Support: This template support all major browsers including FF, IE7-9, Safari, Opera, Chrome etc.
Rich Typography: All Icetheme templates are built-in with a rich typography so that you may easy use almost all html codes.
Built-in Extensions: Along with Icetheme templates you will find customized IceTheme Extensions to further enhance your project.
Clean Code: Tableless design and 100% CSS-based typography so that you may easy use almost all.
09. RESPONSIVE – BY JOOMLABAMBOO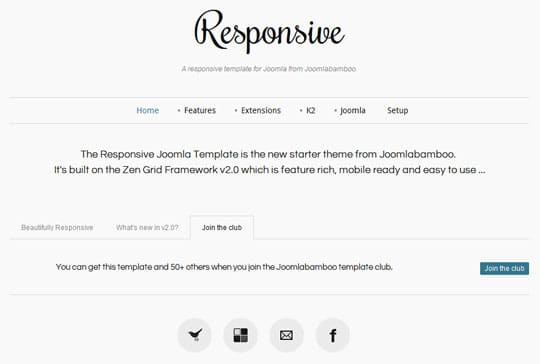 The Responsive Joomla Template is the new starter theme from Joomlabamboo. It's built on the Zen Grid Framework v2.0 which is feature rich, mobile ready and easy to use.
Features of this theme:
Awesome font control: Combine the power of the 250+ font families available in the Google Font Directory with the simplicity of the Typekit font replacement system.
Flexible layouts: Choose from fixed width, percentage based fluid and mobile friendly responsive layouts. Also conveniently hide module on mobile devices.
Easily change template colors: Easily change template colours using the built-in color picker and custom selectors.
Translation and localisation: All templates are easily localised by simply editing or creating your own language translation of both the template admin and the template front end.
A multitude of modules: Almost all Zen Grid Framework based templates take advantage of the 50+ module positions that exist in the core framework. You wont always need to use 50 module positions but if you do – then we have you covered.
Social Icons: Integrated support for twitter, Facebook and a stack of other social media links and icons.
CSS and Javascript Compression: The framework combines and compresses the javascript and css delivered by the template and framework which reduces http requests when loading the site and reduces files sizes of your web site's core assets.
Easily add your own css and javascript: Upload your own css and javascript files to the template's user folder and have them automatically included in your site.
Integrated Google Analytics: Easily set up Google analytics on your Joomla website by simply pasting your analytics code into the template administrator interface.
Hidden Panel: Need to create a slick fly out or dropdown panel for your Joomla site? Just publish any module to a panel position and the framework will do the rest.
Remove Mootools: If you dont need Mootools on your site then it's easy to set the option to not load Mootools on your site which can be a significant advantage when it comes to page load on your site.
A beautiful user interface: Version 2 of the Zen Grid Framework sports a beautiful user interface that makes using framework a true joy.
Template admin access control: Ever have a customer that wants that likes to fiddle with template settings? The Zen Grid framework now gives you the option to remove selected options from the template administrator interface.
A beautiful offline page: When your site isn't quite ready to reply you can show a simple and streamlined offline page for your users.
Useful frontend debug mode: Easily display helpful template information and settings on the front end of your site to help familiarise yourself with framework functionality.
Built-in documentation: Never leave the template admin again with the complex built-in framework and template documentation built into the template interface.
Clean markup: The Zen Grid Framework features clean and reusable markup based on a flexible and scalable percentage grid that makes it super easy to scale your content according to screen size.
Three menu systems to choose from: Each Zen Grid Framework template has the option of displaying your menus in either a jQuery powered superfish menu, split menu or accordion like panel menu. The menus are delivered via the core Joomla menu module and are a snap to set up.
Tabbed Modules: A tabbed interface can easily be created by simply publishing any module of your choosing to the tab1, tab2, tab3, tab4 positions.
IE6 PNG Fix: The framework also supports a png dix for transparent images for the Internet Explorer 6 browser.
Rebrandable: Removing branding on the front end of the template is an easy toggle in the template admin.
10. ZT GENI – BY ZOOTEMPLATE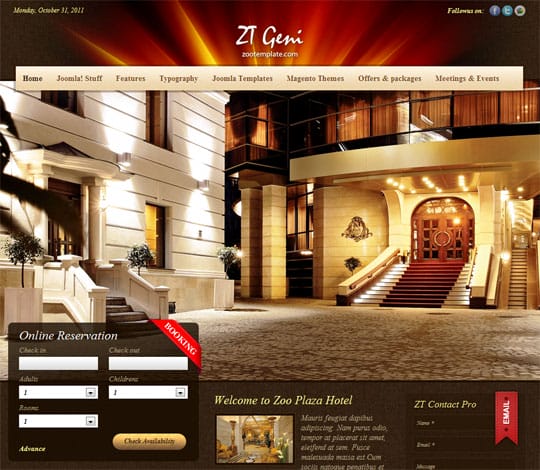 For those of you who are looking for a professional template to build upon a new hotel website, let's visit ZT Geni in which you can easily customized the layout to meet the individual needs of the particular project. ZT Geni is ready for Joomla 1.5 and 1.7
ZT Geni is technically supported by JV Headline which helps demonstrate how hotel websites can incorporate beautiful design and target their audience in the right way by providing succinct and relevant information and, above all else, easy functionality. ZT Twitter, ZT Facebook and ZT Contact Pro, on the other side allows you to set up a high quality customer connecting channel, in order to promote your hotel business online efficiently.
Hotels are so diverse that it's hard to know what you're going to get until you get in your room. ZT Geni- serves as an alternative gateway to draw customers' interest in staying at their hotel. Enjoy great rates and service!
Features of this theme:
Can be used for kind of hotel, holiday or any website…
Build in color tools
Mega Menu supported
100% Tableless design. 100% CSS/DIV compliance.
Joomla 1.5 and Joomla 1.7 native
Smartphone template ready
RTL language support
Well-comment CSS and PHP code files
Tutorial + Detailed userguide
Delivered with source Adobe .PSD files
Delivered with QuickStart Package
3 columns layout based template
30 module positions ready
Compatible IE 7+, Safari, Mozilla Firefox, Opera 9+, Chrome
Javascript, Css compression and Cache supported
11. ZT MEDA – BY ZOOTEMPLATE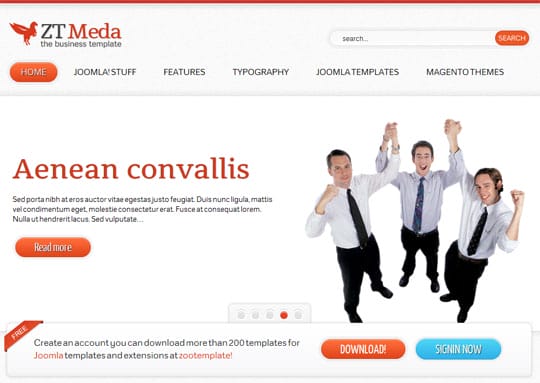 It's a global truth that real world companies have been trying very hard to infuse their brand into the web, due to the popularity of the internet. ZT Meda from ZooTemplate knows that. ZT Meda is ready for Joomla 1.5 and Joomla 1.7.
ZT Meda with the support of ZT Headline offers professional great quality templates, packages, software and logos for your company. ZT Contact Pro, on the other hand, is a channel to answer all customers' enquiries by a clear content, simple navigation as its destiny of creating the biggest impact on business value. ZT Meda also builds by three colors: green, blue and orange for the sake of alternative design.
Let's visit ZT Meda – an awesome joomla templates for business, industrial, commercial applications and a dedicated solution for portfolio template service to showcase their work.
Features of this theme:
Can be used for kind of portfolio, corporate, blog, business website…
Build in 3 preset styles: blue, green and orrange
Mega Menu supported
100% Tableless design. 100% CSS/DIV compliance.
Joomla 1.5 and Joomla 1.7 native
Smartphone template ready
RTL language support
Well-comment CSS and PHP code files
Tutorial + Detailed userguide
Delivered with source Adobe .PSD files
Delivered with QuickStart Package
3 columns layout based template
30 module positions ready
Compatible IE 7+, Safari, Mozilla Firefox, Opera 9+, Chrome
Javascript, Css compression and Cache supported
Disclosure: Some of our articles may contain affiliate links; this means each time you make a purchase, we get a small commission. However, the input we produce is reliable; we always handpick and review all information before publishing it on our website. We can ensure you will always get genuine as well as valuable knowledge and resources.