This article is about 3 awesome Virtual reality glasses which are very new and latest in this market. I will try to share out as much information I can so that you all can be benefitted especially those who are planning to purchase VR glass for themselves. If you purchase any of the below three products on this September, you can get additional discounts from EverBuying. So let's see what are their features and specialty in respect to the others VR glasses available in the market.
1. Xiaomi VR 3D Glass: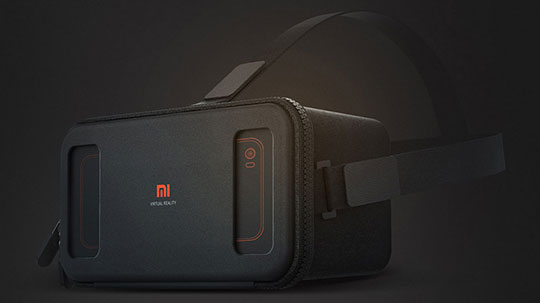 The first impression of Xiaomi VR 3D Glass is in its design. It's beautiful distinctive two zippers designed will give you a feel of being fashionable as well as comfortable while using it in your eyes. It is compatible with any smartphones which are between 4.7 – 5.7 inches in size. There is hollowed out space for releasing out the heat from its body.
Xiaomi has used skin dosed Lycra as a body material for this glass. This is quite light weight and will definitely not add any sort of pressure in your head. You will glad to notice that it has an anti-dazzle lens which has adopted aspherical lenses for getting a clear view for watching.
The dimension of the product is 7.91 x 4.21 x 3.58 inches and its total weight is just 209 grams. Xiaomi has always proved them as best with their previous products, so we can definitely trust them on quality. Let's enjoy this awesome 3D like theater just sitting on your own comfort zone.
As I said early that if you purchase this VR glasses now you can get a good amount of discounts from EverBuying. Although the regular price is quite low, just around $20.00, but by using this Coupon code "EBMIVRG" the price will become just $17.09. This coupon will work up to September 26, 2016.
2. PIMAX 4K VR 3D Headset: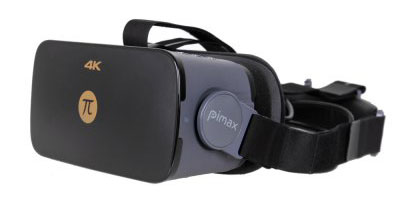 PIMAX 4K VR 3D Headset can be operated by PC itself. With this VR glass, you can enjoy outstanding 4K video with a super wide viewing angle. You will also get built-in anti-blue laser lens with auto light adjustment system and auto demisting system.
It will also provide 18x150mm space for users those who use spectacles in their daily life. The lens used in this VR glass is dual 53mm large aspherical optical lens with 110-degree FOV. It has adopted 1000Hz dual gyroscope, which will definitely reduce the dizzy sensation effectively from your eyes while using it.
This VR glass is compatible with any PC which is having Windows 7 / 8 / 10 and any Tablet with Windows 7 / 8. It has a very strong compatibility, PiPlay independent driver, and it is compatible with SteamVR and Oculus games. In short, this is a very good VR glass for your PC. The dimension of this glass is 7.09 x 4.61 x 3.54 inches and its total weight is 430 grams.
The regular price of this glass is kept around $340.00. But if you use this Coupon code "EBPIMA4V", then you can get this product at just $293.99. This coupon will get expired after September 26, 2016.
3. Deepoon E2 3D VR Glasses: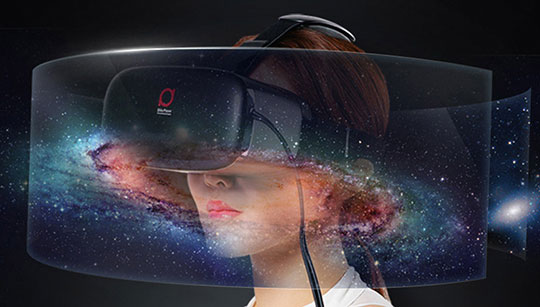 With Deepoon E2 VR Glass, you can not only enjoy traditional game mode, but also various types of games like interactive, lifelike game scene and much more. This VR glass will give you Panorama type view which will definitely be a super cool visual experience for any viewers. Deepoon has adopted AMOLED screen from Samsung, which will definitely go to solve the problem of the fuzzy image whenever you will move your head.
In this VR glass, you will get both the optical amplifying and image counter distortion technology, which will provide a 120° view angle and you will enjoy the images as it happening in real.
I have found that they have used Japanese optical lens, which will give you clearer vision. They have also used the military level aspheric optical lens that will help to reduce distortion. You will also get optical myopia correction option of an adjustable pupil distance from 54mm to 74mm.
This VR glass is made up with good quality Swedish S136 steel material. The surfaces of this VR glass is made up of BMW6 M stoving varnish material, with Musashi spraying technology. In short, they have used ergonomic design, which will help different people in adjusting it according to their needs. And so in return, you will get to enjoy an IMAX 3D theater experience at your own comfort level. The overall dimension of this glass is 3.94 x 5.12 x 7.48 inches and the weight is just 657 grams.
The price of this product is kept around $240.00-$245.00 for regular time. But using this Coupon code "EBDEPVR", the price will reduce to just $193.99. Do not forget to redeem this coupon within September 26, 2016.
Buy Deepoon E2 from EverBuying
Conclusion:

I am hoping to hear something good from you after reading out my article regarding these above 3 VR glasses available at EverBuying. I have shared out all the required information for you which might help you in taking decisions which will be the best for you to buy. So wish you all the best in an advance for your future purchase of VR glasses.
Disclosure: Some of our articles may contain affiliate links; this means each time you make a purchase, we get a small commission. However, the input we produce is reliable; we always handpick and review all information before publishing it on our website. We can ensure you will always get genuine as well as valuable knowledge and resources.